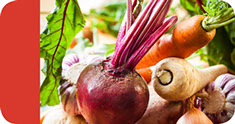 about fresh to you
Quick Links
About Fresh to You
Apply
Running Fresh to You
Fresh to You Resources
About Fresh to You
The Fresh to You Fundraiser is a healthy fruit and vegetable fundraising alternative for those schools that are currently participating in the BC School Fruit and Vegetable Nutritional Program (BCSFVNP).
The objective of the program is to sell healthy bundles of locally grown produce to family and friends in order to assist with schools' fundraising initiatives. The Fresh to You Fundraiser is a great way to promote healthy food choices while making a 40% profit for your school.
To participate your school should be interested in:
Promoting healthy food choices
Selling top quality fresh produce from BC suppliers
Accessing new information and recipes for students and families about fresh locally grown vegetables
Making a 40% profit on the produce bundles sold
The healthy bundles include locally grown, seasonal produce.
Sample Fall Fundraiser
* Final item list and prices may vary slightly
Fall Fundraiser Delivery Schedule
June 5 to September 22 — Application online form is available to schools enrolled in the BCSFVNP
September 29 — acceptance or non-acceptance by BCAITC
September 30 to October 22— your school sells produce bundles
October 23— submit orders and payment to BCAITC
November 20 to 30— schools receive produce
Congratulate students and volunteers on a successful, healthy fundraiser!
Fresh to You Program Poster (PDF)